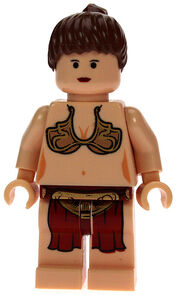 Princess Leia (Slave)
is a
minifigure
of
Leia Organa Solo
in her slave outfit that she had to wear after she became a prisoner of
Jabba the Hutt
.
Role in Lego® Star Wars
Minifigure
This minifigure originally had the yellow skin color in Jabba's Palace, but she was changed to the lighter flesh color in Jabba's Sail Barge.
Game character
Princess Leia wearing her slave outfit is also a playable character in two LEGO® Star Wars videogames, in Lego® Star Wars II: The Original Trilogy as well as in its successor, Lego® Star Wars: The Complete Saga.
Appearances in Lego®
Sets
Games
Gallery
Ad blocker interference detected!
Wikia is a free-to-use site that makes money from advertising. We have a modified experience for viewers using ad blockers

Wikia is not accessible if you've made further modifications. Remove the custom ad blocker rule(s) and the page will load as expected.