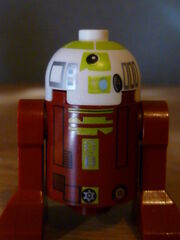 R7-A7

Species

Born

?

Died

?

Relations

?

Primary Weapon

None

First Appearance
R7-A7 was a lime green and dark red astromech droid used by Ahsoka Tano during the Clone Wars. It participated in the Battle of Ryloth during the Clone Wars. It flew in Ahsoka's Delta-7 starfighter. A minifigure of R7-A7 was released in 2009 with the 7751 Ahsoka's Starfighter and Vulture Droid set.
Appearances in Lego®
Ad blocker interference detected!
Wikia is a free-to-use site that makes money from advertising. We have a modified experience for viewers using ad blockers

Wikia is not accessible if you've made further modifications. Remove the custom ad blocker rule(s) and the page will load as expected.