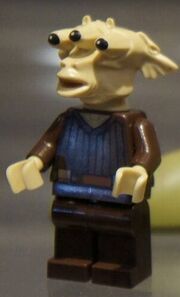 Ree-Yees is a minifigure that was released in 2013. He is included in the set 75020 Jabba's Sail Barge.
Role in LEGO® Star Wars
Minifigure
Ree-Yees has a dark brown torso and legs with dark brown arms and tan hands. His head is a custom model that depicts his three eyes and gaping mouth.
Background
Ree-Yees was a Gran mercenary found in Jabba's Palace and on his Sail Barge in Episode VI. He died when the Sail Barge exploded.
Appearances
Trivia
External Links
Ad blocker interference detected!
Wikia is a free-to-use site that makes money from advertising. We have a modified experience for viewers using ad blockers

Wikia is not accessible if you've made further modifications. Remove the custom ad blocker rule(s) and the page will load as expected.