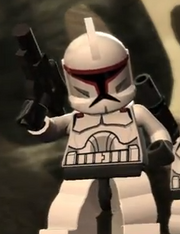 Rys
was a clone trooper who was a member of the Coruscant Guard under the command of clone
Lieutenant Thire
. He once accompanied Jedi Master
Yoda
to Rugosa. He has only appeared in the
LEGO Star Wars III: The Clone Wars
video game, but has not had a real minifigure made of him.
Role in Lego Star Wars
Appearance
In the game, Rys has normal white clone armour. The only distinguishing marks are that he has small, crimson rectangles on the corners of his chest, and he has a crimson line outlining his visor.
Video game character
Rys appears as a playable character in the 2011 released LEGO Star Wars III: The Clone Wars video game. He appears in the game's mission entitled Ambush. Rys can also be unlocked by entering the cheat code 4PTP53. He is equipped with a bazooka and a grappling hook.
Appearances in Lego