Salacious Crumb

Homeworld

Kowak

Born

5 BBY

Died

4 ABY

Color

Brown

Eye Color

Yellow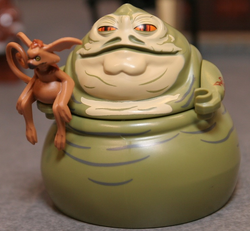 Salacious B. Crumb is the pet of Jabba the Hutt. He died in 4 ABY onboard Jabba's Sail barge, the Khetanna. Salacious Crumb was a Kowakian Monkey Lizard. A minifigure of him was included in the 9516 Jabba's Palace set. This set was released in June, 2012.
Role in LEGO ® Star Wars
Minifigure
Salacious B. Crumb first appeared in the 2012 set 9516 Jabba's Palace. He was made using a completely unique mould and was made of rubber rather than the usual ABS plastic. He is beige with dark orange hair and his mould depicts his large ears and long, curling tail. He can sit on a one stud, such as Jabba's hand or the side of the dais in 9516 Jabba's Palace with his legs dangling over the side.
Video Games
(More information needed here, please help) Salacious B. Crumb appears in the DS version of Lego Star Wars II: The Original Trilogy (Console).
Appearances in Lego®
Sets
Games
Ad blocker interference detected!
Wikia is a free-to-use site that makes money from advertising. We have a modified experience for viewers using ad blockers

Wikia is not accessible if you've made further modifications. Remove the custom ad blocker rule(s) and the page will load as expected.