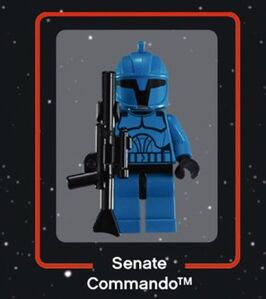 The Senate Guard or Senate Commando is a minifigure that is in the 2009 set Venator-class Republic Attack Cruiser. They wear a blue version of Clone Trooper armor, and have a regular clone face, their successor is the Royal Guard. The Senate Commandos were responsible for securing the senate building and protecting the Senators. In Episode I: The Phantom Menace, the guards are seen in robes, which are relatively similar to those found in the Royal Guard. When Star Wars: The Clone Wars came out, the robes were then replaced with Phase I Clone Trooper armour. 
Appearances in Lego®
Sets
Magnets
853037 Anakin, Senate Commando and Ahsoka Magnet Set
Games
Ad blocker interference detected!
Wikia is a free-to-use site that makes money from advertising. We have a modified experience for viewers using ad blockers

Wikia is not accessible if you've made further modifications. Remove the custom ad blocker rule(s) and the page will load as expected.