Tatooine
was a desert planet in the Star Wars universe. It was home to many different spieces, such as
Tusken Raiders
, and
Jawas
. Tatooine was very hot, and had two suns. Tatooine also was the homeworld of
Anakin Skywalker
. His son,
Luke Skywalker
, grew up on this planet, too. Some people harvested moisture, using
Moisture vaporators
.
Cities
The capital of this planet is Bestine. One of the more popular major cities are Anchorhead, Mos Eisley, and Mos Espa.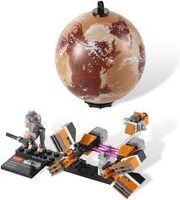 Appearances in Lego®
Sets
Episode I
Episode II
Episode IV
Episode VI
Games
Ad blocker interference detected!
Wikia is a free-to-use site that makes money from advertising. We have a modified experience for viewers using ad blockers

Wikia is not accessible if you've made further modifications. Remove the custom ad blocker rule(s) and the page will load as expected.