Tokkat

Species

Born

?

Died

?

Relations

Wunka (brother)

Primary Weapon

*Bow

First Appearance
Tokkat
was a male
Ewok
from the forest moon of
Endor
. He had black fur, and a greenish hood. He is seen in
Star Wars Episode VI: Return of the Jedi
, helping Wicket and Chewbacca take over a
AT-ST
.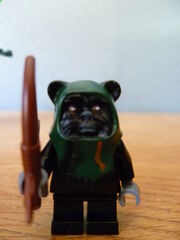 Role in Lego Star Wars
The Tokat minifigure was first made in 2011, where it was released in the Ewok Attack set. The minifigure was all black except for his hands, eyes, and hood. The hood of Tokkat was green, with a small brown string coming down from it. Tokat's eyes were brown, and he hand grey hands. The Tokkat minifigure was made like all Ewok minifigures, with him having a head piece the came down and covered his torso.
Appearances in Lego
Ad blocker interference detected!
Wikia is a free-to-use site that makes money from advertising. We have a modified experience for viewers using ad blockers

Wikia is not accessible if you've made further modifications. Remove the custom ad blocker rule(s) and the page will load as expected.