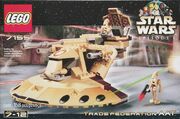 The Trade Federation AAT (Armored Assault Tank) was used by Separatist forces from the Battle of Naboo to the end of the Clone Wars. They had an armament of a heavy laser cannon and two blasters and a maximum speed of 55 kilometers per hour. They have room for a crew of two Pilot Battle Droids. Lego has made two sets featuring AATs, 7155 Trade Federation AAT, and 8018 Separatist AAT.
Ad blocker interference detected!
Wikia is a free-to-use site that makes money from advertising. We have a modified experience for viewers using ad blockers

Wikia is not accessible if you've made further modifications. Remove the custom ad blocker rule(s) and the page will load as expected.