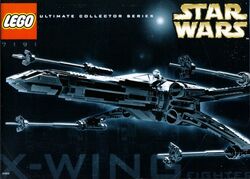 The Ultimate Collector's Series is a line of Lego® Star Wars toys. This line featured larger scale Star Wars models with more details than the regular sets. It was launched in 2000 with the release of the 7181 TIE Interceptor and the 7191 X-wing Fighter Lego Star Wars sets. The Ultamitae Collector's Series line alos featured two statues: one Darth Maul bust and one Yoda statue. This line also includes the largest Lego® model ever produced: the 10179 Ultimate Collector's Millennium Falcon. The latest UCS set is 10240 Red Five X-Wing Starfighter, released in 2012.
List of Ultimate Collector's Series Sets
Ad blocker interference detected!
Wikia is a free-to-use site that makes money from advertising. We have a modified experience for viewers using ad blockers

Wikia is not accessible if you've made further modifications. Remove the custom ad blocker rule(s) and the page will load as expected.