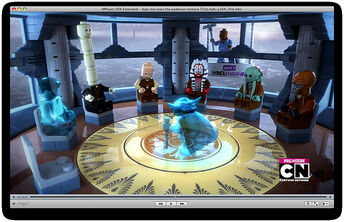 Yarael Poof
was a Quermian
Jedi Master
and a member of the
Jedi Council
before the
Clone Wars
. He has not appeared in any sets yet, but he has made an appearance in the TV serial
LEGO Star Wars: The Padawan Menace
.
Background
Yarael Poof was a Quermian Jedi Master and member of the Jedi Council in the years leading up to the Clone Wars. He was killed by Jango Fett and Zam Wessel on Coruscant.
Role in LEGO® Star Wars
Movies
Yarael Poof has appeared in the film LEGO Star Wars: The Padawan Menace. He appears as a member of the Jedi Council while Yoda is delivering a message from Hoth and at the medal ceremony at the film's end. In the film his long neck is made up of several white bricks and he has a white face.
Appearances
Movies
Ad blocker interference detected!
Wikia is a free-to-use site that makes money from advertising. We have a modified experience for viewers using ad blockers

Wikia is not accessible if you've made further modifications. Remove the custom ad blocker rule(s) and the page will load as expected.