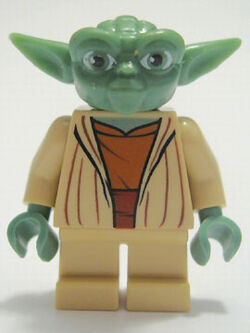 Yoda from the Clone Wars line is a minifigure found only in one set, the Separatist AAT, and the 75002 AT-RT. To learn more about the figure, see Yoda.
Details
The Yoda figure has a redesigned head piece made of rubber. It has larger eyes than the original. His torso is tan and brown, meant to show his simple Jedi robes. He has short tan legs and carries a green lightsaber.
Ad blocker interference detected!
Wikia is a free-to-use site that makes money from advertising. We have a modified experience for viewers using ad blockers

Wikia is not accessible if you've made further modifications. Remove the custom ad blocker rule(s) and the page will load as expected.